STATS:
D.O.B. 21/03/1972
Weight: 45kg
Height: 5''2.5
Marathon PB: 2:23:20

35 Bronze 12 Silver 15 Bronze
The reason I have chosen Tulu as my inspiration of the month is for her pure strength of character and determination that shines on the track and that I believe we can all learn from. From a small village set in Ethiopia named Bekoji which she
remains loyal to, she started out as a shepherd, first realising she had somewhat of a talent for running when she was 16. At 17 she started in the police force and has since been moving up the ranks of her local force to major alongside her global achievements in distance running, all the while keeping a modest outlook on life and sticking to her principals (she wears a T shirt under running vests to protect her modesty). Running alongside her cousins and sisters both at home and at international competitions (elite runners clearly make good training partners to each other!) she will forever go down in history as the first ever African woman to win a gold in the 10,000m race at the Olympics in Barcelona, 1992. She now has a total of 6 world and Olympic gold medals.
In a recent interview with the BBC commemorating the victory 25 years ago which put her on the map, she describes the admiration for and now close friendship she has formed with her main contender in that race in 1992, Elena Meyer of South Africa. In my opinion this is a perfect example of two strong women pushing each other forward to achieve all that they can and supporting each other which can sometimes feel a little rare in todays society where women can be pitted against each other and told the only way to be successful is to crush each other down. This proves that this doesn't need to be the case, as two literal competitors proved 25 years ago, running a lap together in Tulu's victory, hands held together in the air above them.
To sum up the reason for why Derartu Tulu I hope will be everyone's inspiration, not just for this month but throughout the years is summed up neatly by the following quote I have taken from an article published in 2009 by Liz Robins on the New York Times website after the 40th New York City marathon:
'Derartu Tulu was more than halfway to the most unexpected laurel crown of her career, her 37-year-old legs churning over the Queensboro Bridge, when she turned to the struggling runner next to her and extended a lifeline.
"Come on," Tulu said to Paula Radcliffe, the defending champion and world-record holder from Britain. "We can do it."
When Radcliffe, with a painful left hamstring, dropped back on the slope of Fifth Avenue, about four miles from the finish line, Tulu waited for her. Radcliffe could barely lift her legs, though, and Tulu raced back to the diminished lead pack with plenty in reserve'
When Radcliffe, Tulu's rival of approximately two decades cross the line 35 seconds behind her she was met with a hug from Tulu. I don't need to explain the sportsmanship shown here which isn't always visible between athletes of this calibre.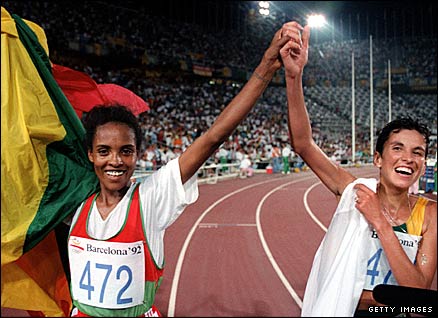 https://myhero.com/images/Community/bec/g1_u71885_meyer921.jpg